Foot pain can be debilitating, and several conditions can cause pain in certain aspects of the foot. This article provides a comprehensive Foot Pain Chart for all sides of the foot and links to more in-depth articles on the symptoms, causes, diagnosis and treatment for each condition.
Foot Pain Chart – Outer foot
Back of the Heel: Mid-Portion Achilles Tendonitis, Achilles Paratenonitis, Plantaris Tendonitis, Sever's Disease, Posterior Ankle Impingement, Insertional Achilles Tendonitis
On the Heel: Peroneal Tendonitis, Longitudinal Tear of the Peroneal Tendon, Lateral Ligament Sprain, Sural Nerve Entrapment, Subtalar Joint Arthritis, Lateral Malleolus Fracture
Midfoot: Sinus Tarsi Syndrome, Bifurcate Ligament Sprain, Tarsal Coalition, Cuboid Syndrome, Cuboid Fracture, Os peroneum
Forefoot: 5th Metatarsal Fracture, Peroneal Enthesopathy, Tailor's Bunion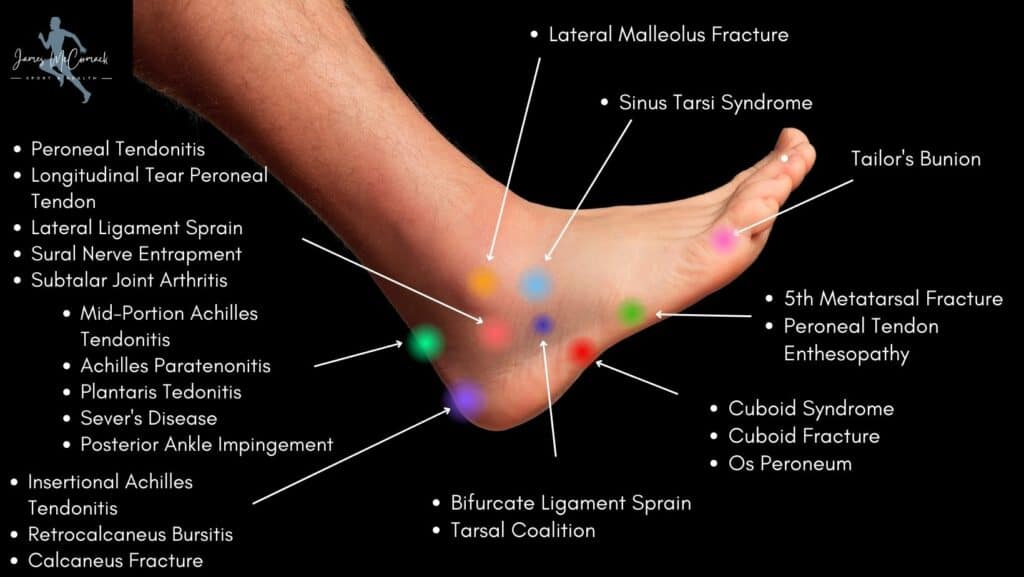 Foot Pain Chart – Top of the foot
Close to the ankle: High Ankle Sprain, Anterior Ankle Impingement, Osteochondral lesion to the talus, Talus Fracture, Anterior Tibial Tendonitis.
Midfoot: Cuneiform Fracture, Second Metatarsal Fracture, Foot Extensor Tendonitis, Superficial Peroneal Nerve Entrapment
Forefoot: Gout, Bunion Pain, Morton's Neuroma, Hammer Toe, Mallet Toe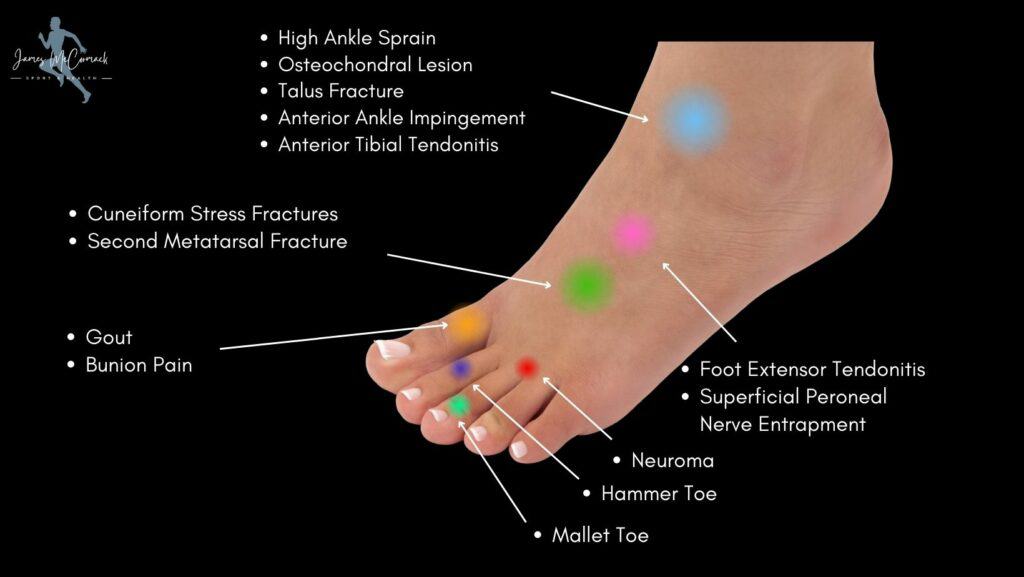 Foot Pain Chart – Bottom of the foot
On the Heel: Fat Pad Atrophy, Spring Ligament Injury, Plantar Fasciitis, Plantar Fascia Tear
Midfoot: Peroneal Longus Tendonitis, Lisfranc Injury
Forefoot: FHL Tendonitis, Metatarsalgia, Capsulitis of the second toe, Plantar Plate Tear, Freiburg's Disease, Sesamoiditis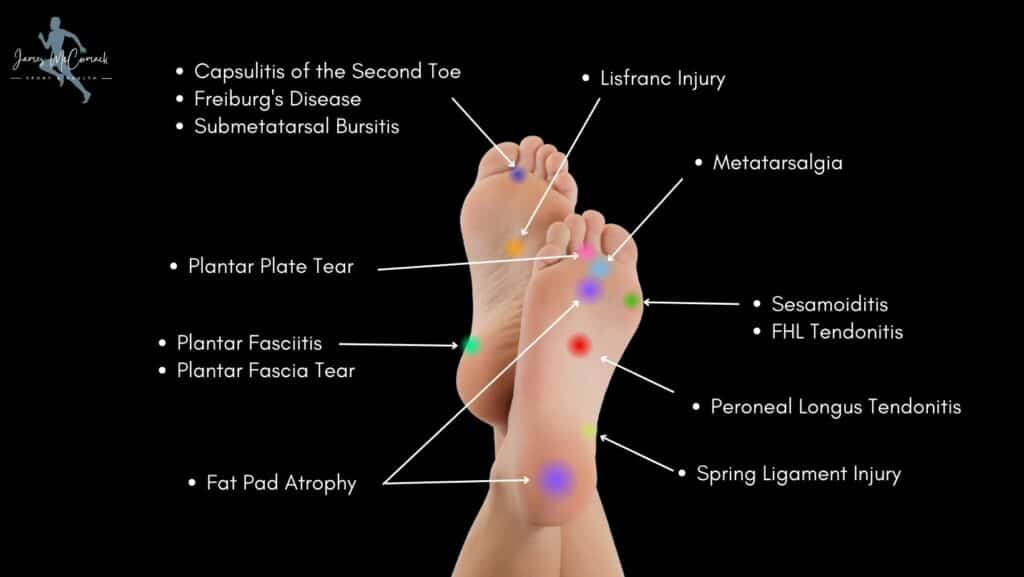 Foot Pain Chart – Inner foot
On the Heel: Medial Malleolus Fracture, Posterior Tibial Tendonitis, FHL Tendonitis, Plantar Fasciitis, Baxter's Nerve Entrapment, Calcaneus Stress Fracture, Tarsal Tunnel Syndrome, Deltoid Ligament Sprain, Medial Malleolus Bursitis
Midfoot: Accessory Navicular Syndrome, Navicular Fracture, Kohler's Disease, Mid-Portion Plantar Fasciitis, Midfoot Arthritis
Forefoot: Bunion Pain, Gout, Turf Toe, Hallux Rigidus, Tennis Toe, Skiers Toe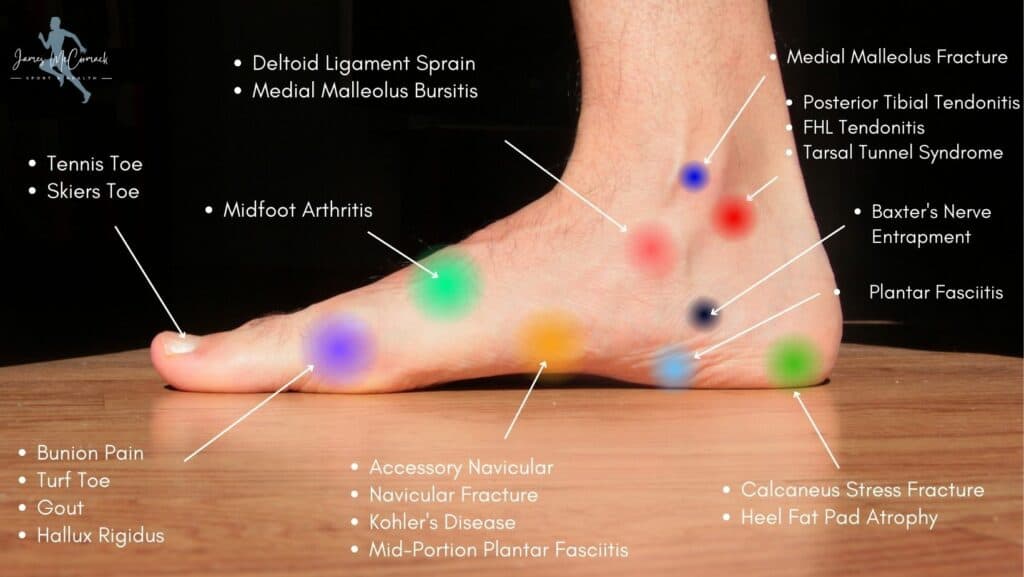 Physiotherapy with James McCormack
This is not medical advice and we recommend a consultation with a medical professional such as James McCormack before trying any of these exercises. James offers Online Physiotherapy Appointments.
Related Articles: 
Best Shoes for Walking – Best Running Shoes for Running on Concrete – Best Hoka Shoes for Nurses – Best Asics Shoes for Plantar Fasciitis