Can running shoes help Bunions?
"Are you a runner struggling with painful bunions? Running can accelerate the change in bunion position and pain, so having the best running shoes for bunions is imperative!'
A bunion is a painful condition affecting the big toe joint. There is a significant genetic link to developing a bunion with up to 90% risk factor if your mother had a bunion. Some people are born with bunions, while others can slowly develop bunions over time from risk factors such as flat feet, fractures and impact activities such as running.
Bunions cause a deviation of the big toe away from the midline (hallux valgus), and in severe cases, they may move over or under the second toe, which can lead to secondary Hammertoes. In other cases, there may be a twist or rotation of the big toe rather than a noticeable deviation of the big toe.
Most people with bunions have pain on the base of the big toe joint that is aggravated by walking and running, while others may not have pain. Incorrect running shoes can cause secondary injuries such as Morton's Neuroma, Capsulitis, Stress Fractures, Mallet Toes and Metatarsalgia.
So, selecting the right running shoes is crucial for runners with bunions, as it can help alleviate pain and prevent secondary injuries that may result from wearing incorrect shoes. Throughout this article, we will explain the most important features to look for in running shoes for bunions, and we will provide recommendations for the best running shoes.
Best Running Shoes For Bunions
The best running shoes for Bunions should have a responsive cushion, a stable midsole and a wide toe box.
Responsive cushioning: this helps by providing additional support under the foot to reduce the impact on your bunion.
Stable midsole: helps to control the pronation moments (inward movement of your foot) that can cause a bunion.
Wide toe box: creates adequate space for your bunion, reducing compression. A narrow toe box can compress the toes and cause further deviation of the big toe away from the midline.
Investing in running shoes with these key features can help alleviate pain and prevent further deterioration of your bunions. Our 3 recommended running shoes for bunions are below:
James McCormack is a Physical Therapist who specialises in knee, foot & ankle injuries. www.james-mccormack.com is a participant in the Amazon Services LLC Associates Program, an affiliate advertising program designed to provide a means for sites to earn advertising fees by advertising and linking to Amazon.com. The money earned from this helps us to create free educational content.
New Balance X860 Wide Fit Running Shoes For Bunions
We recommend the New Balance X860 for bunions due to its wide-fitting toe box, which helps by allowing adequate space for a bunion without compressing the surrounding toes.
The X860 is a lightweight shoe with foam sole cushioning to protect the forefoot from the impact that irritates bunions while having a medial posting to reduce and control any excess pronation moments that can cause bunions.
We recommend the New Balance X860 for mild to moderate symptoms of Bunions.
Buy on Amazon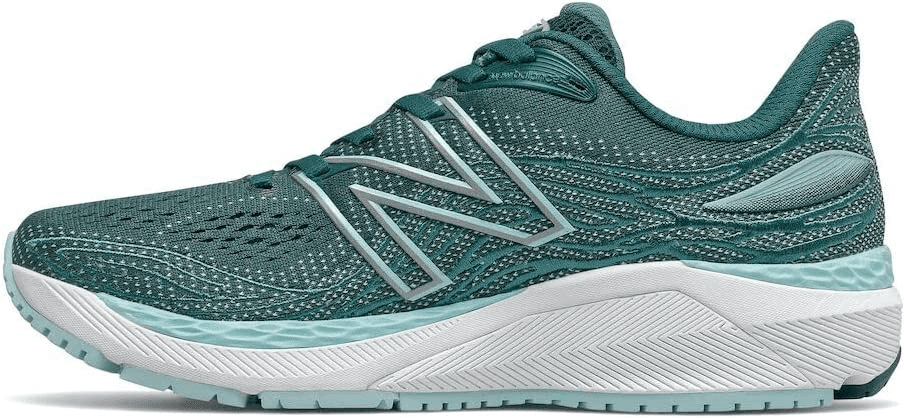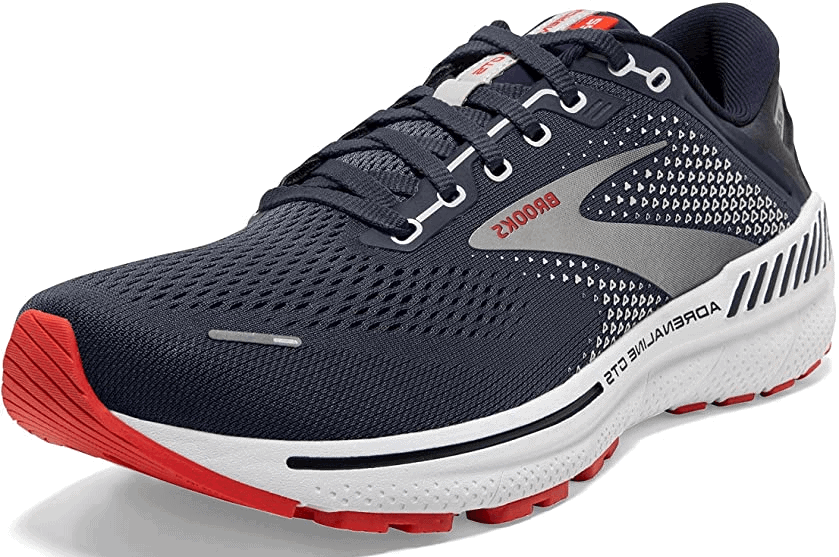 Brooks GTS 22 Extra Wide Running Shoes For Bunions
We recommend the Brooks Adrenaline GTS 22 as they are a cushioned shoe that protects the forefoot while allowing you to choose your width option depending on the size of your foot.
Their intelligent control in the heel cup helps to control the ankle joint, reducing pronation moments in the midfoot.
We recommend Brooks Adrenaline GTS 22 to patients with moderate symptoms of bunion pain.
Buy on Amazon
Hoka Bondi Running Shoes For Bunions
The Hoka Bondi 8 are our favourite running shoes for bunions due to their ultra cushion sole that comes in varying widths to protect the forefoot from impact and allow sufficient toe box space.
The Hoka Bondi has a responsive cushion to help with propulsion and a 4mm heel drop which slows down the speed of weight transfer onto the forefoot from heel strike while also reducing forefoot pressure when standing compared to a high heel drop trainer.
We recommend the Hoka Bondi for all forms of bunions, especially for severe bunion pain.
Buy on Amazon