A bunion boot is a form of walker boot that is used after having bunion surgery. Some people may use a bunion boot if they have a very irritable bunion as part of a conservative treatment to reduce inflammation and pain levels within the bunion for 2-4 weeks before recommencing Physical Therapy.
James McCormack is a Physical Therapist who specialises in knee, foot & ankle injuries. www.james-mccormack.com is a participant in the Amazon Services LLC Associates Program, an affiliate advertising program designed to provide a means for sites to earn advertising fees by advertising and linking to Amazon.com. The money earned from this helps us to create free educational content.
Related Article: Best shoes for Bunions
Best Bunion Boot
The best bunion boot has a dorsiflexion angle on the heel, an open toe box and at least two adjustable straps. The dorsiflexion angles helps by pointing the forefoot upwards, keeping your bodyweight on your heel as you walk.  The open toe box allows space for swollen toes and medical grade straps accommodate strapping.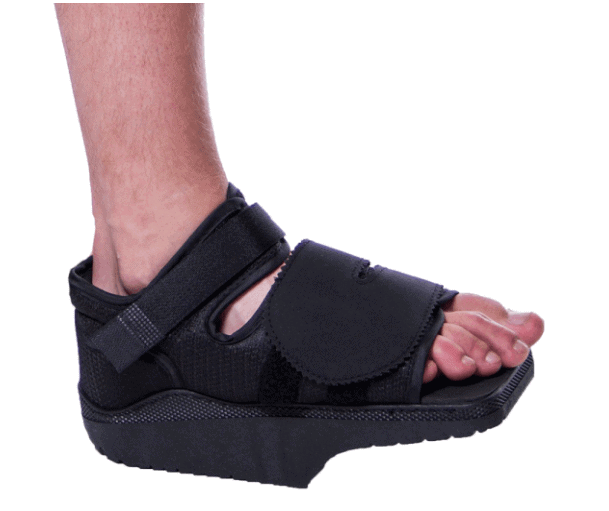 BraceAbility Bunion Boot
We recommend the Braceability bunion boot as it has a 15 dorsiflexion angle to keep your weight on your heel. There are medical-grade straps to safely and securely hold a bandaged foot in position.
There is a soft foam sole for comfort and an open toe box so the post-surgical toe doesn't get compressed.
Buy Now
Vive Bunion Boot
The Vive Bunion Boot comes with a dorsiflexion angle on the heel, adjustable medical grade straps, and a set of straps to facilitate excess swelling or bandages.
The Vive Bunion boot comes with an open toe box, foam padding underfoot and a rubber sole to provide additional traction underfoot.
Buy Now