Written by: James McCormack – Foot and Ankle Specialist
Do you feel like you have a burning sensation in the ball of your foot, or does it feel like a pebble in your shoe? Poorly fitted shoes may be contributing to Morton's Neuroma in your foot. In this article, we are going to explain the influence of shoes on Morton's Neuroma and provide recommendations on the best shoes for Morton's Neuroma.
Morton's neuroma is a painful condition affecting the ball of the foot due to the compression and irritation of the nerves within the web spaces of your toes. Inflammation of these nerves can lead to pain and numbness in the toes when walking or during impact activity, and this is most commonly found between the 3rd and 4th metatarsals. However, it can occur in any of the web spaces of your feet.
Morton's Neuroma can be caused by foot conditions such as Bunions, Hammertoes and flat feet. Still, the main external factors that contribute to the development and worsening of Morton's Neuroma are shoes. High heels, unsupportive flat shoes and shoes with a narrow toe box can all contribute to Morton's Neuroma symptoms, so having the correct shoes for Morton's Neuroma is imperative. 
Related Article: Morton's Neuroma Symptoms & Causes
Best Shoes For Morton's Neuroma?
The best type of shoes for Morton's Neuroma are a cushioned trainer with a low heel drop, cushioned sole and a wide-fitting toe box.
A cushioned sole absorbs the impact and vibration that arises from the ground on impact to reduce irritation of the neuroma.
A zero drop or stack height refers to the height difference from the back of the trainer to the front of the trainer. A low stack height is beneficial for Morton's Neuroma as if there is a heel, then your centre of gravity moves towards the front of the foot when standing. Similar to wearing a high heel, excess pressure is then placed on the forefoot and this can irritate a neuroma.
Finally, the width of the toe box is imperative. Everyone knows the length of their foot, but very few know their foot width. This can be measured using a standard measuring tape around the forefoot and is typically then graded size A to EEEE. If a toe box is too narrow, it will compress the forefoot and pinch the nerve, worsening the symptoms of Morton's Neuroma. We normally recommend a heel drop of 5mm or less to our patients with Morton's Neuroma.
James McCormack is a Physical Therapist who specializes in knee, foot & ankle injuries. www.james-mccormack.com is a participant in the Amazon Services LLC Associates Program, an affiliate advertising program designed to provide a means for sites to earn advertising fees by advertising and linking to Amazon.com. Earnings from this allow us to create free to read articles without affecting the price of products.
We have created a list of our recommended shoes for Morton's Neuroma.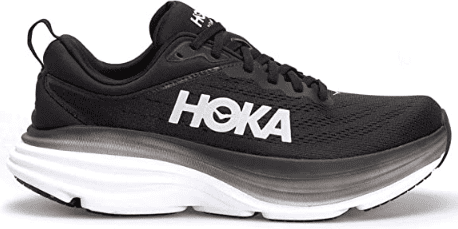 Best Shoes for Morton's Neuroma
We recommend the Hoka Bondi 8 Shoes for Morton's Neuroma pain relief due to their Bounce 8 cushioning, neutral sole and 4mm heel drop.
These shoes are extremely comfortable for walking and daily activities.
The 4mm heel drop reduces the pressure of the forefoot, and the Bounce 8 cushioning absorbs the impact from impact activity such as walking.
Best Shoes for Mortons Neuroma: Stability
We recommend the Hoka Gaviota 4 Shoes for Morton's Neuroma pain relief due to their 5mm heel drop, J-Frame support and Gaviota 4 comfort cushioning.
The J-Frame of the Gaviota 4 help to reduce excess pronation during the gait cycle that is linked with flat feet, which helps to reduce pressure on the forefoot.
The 5mm cushioning and wide-toe box help to prevent compression and irritation of Morton's Neuroma.