James McCormack is a Physical Therapist who specialises in Foot & Ankle injuries. james-mccormack.com is a participant in the Amazon Services LLC Associates Program, an affiliate advertising program designed to provide a means for sites to earn advertising fees by advertising and linking to Amazon.com
Best Shoe Inserts for Peroneal Tendonitis?
The best inserts for Peroneal Tendonitis should be semi-rigid inserts with a firm cushion underneath and are full length. Inserts that are semi-rigid help to control the motion of the foot and ankle in the transverse and coronal plane, which is one of the main biomechanical causes of Peroneal Tendonitis.
Hard cushioning acts as a shock absorber of the vibration from the ground while limiting ankle movement. A full-length insert stops it from moving within the shoe; this is important to reduce the risk of blistering.
We recommend the WalkHero shoe inserts to our patients who have Peroneal Tendonitis.
Best Walking Shoes for Peroneal Tendonitis?
We recommend the Skechers go walk Arch Fit walking shoes for Peroneal Tendonitis due to their lightweight cushioning, arch support and comfort pillar support.
The arch support helps to reduce excess pronation forces that can overload the Peroneal Tendons, while the Pillar Support helps to stabilise the ankle joint.
In our experience, the Skechers go walk Arch Fit are an excellent everyday solution for walking with Peroneal Tendonitis.
Best Trail Shoes for Peroneal Tendonitis?
Depending on your foot type, a stability shoe is the best shoe is best for Peroneal Tendonitis. This helps to control the subtalar joint of the ankle, reducing the amount of load placed on the Peroneal tendons.
Key things to identify are that the sole isn't too thick. Generally, no more than 2cm as greater than this can make the shoe too rigid. Check that there is flexibility in the toe box so the foot can move through the push-off phase easily.
We recommend the Salomon AlphaCross 3 to our patients who have Peroneal Tendonitis as it is stable, light, and flexible.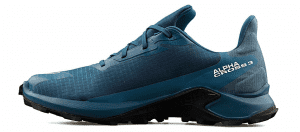 Best Orthotics for Peroneal Tendonitis?
Custom-made, semi-rigid orthotics are the best type of orthotics for Peroneal Tendonitis. These are made specifically for an individual after a biomechanical assessment and 3D foot scan.
This assessment enables the clinician to assess the mobility of the foot and if the Peroneal tendons are being overloaded through the gait cycle. A flat foot might need more heel and medial arch support, while a high arch foot may need more assistance in the forefoot from an orthotic. The total cost of this process can be $300-500.
Our next best solution is a formthotics adult orthotic insoles. It is made of EVA, which is light but durable and doesn't collapse under body weight, as a lot of other insoles do. You can cut it to shape, and it provides adequate support to the Peroneal Tendons to help offload them.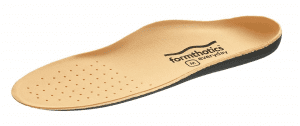 Can Shoes Cause Peroneal Tendonitis?
If a shoe is too old and worn out, it can affect the biomechanics of the foot. This could facilitate additional movement of the subtalar joint, overloading the outer ankle and leading to Peroneal Tendonitis.
If a shoe provides the wrong type of support, such as a stability shoe in a supinated type of foot, this could always lead to Peroneal Tendonitis.
Physiotherapy with James McCormack
This is not medical advice. We recommend a consultation with a medical professional such as James McCormack to achieve a diagnosis. He offers Online Physiotherapy Appointments weekly.