Hyperextension at the knee can be a significant problem. Some individuals naturally have a high angle of extra extension, where the knee is able to extend past the fully straight position. Repetitive stress due to this additional movement at the joint, or a single hyperextension injury, can put additional stress on the knee joint in several areas which can increase the risk of many knee injuries.
Common injuries associated with knee hyperextension are runner's knee, medial collateral ligament or anterior cruciate ligament strains or tears, meniscal injuries, Hamstring strains or tears, and Hoffa Fat Pad Impingement.
To prevent these injuries from developing if you have hyperextension at your knee you can work on building good strength through your leg and proprioception. A physical therapist will be able to direct you with this rehabilitation. In addition to strength and conditioning work, getting a brace for hyperextension of the knee can increase your knee stability and proprioception, and reduce your injury risk.
James McCormack is a Physical Therapist who specializes in Foot & Ankle injuries. james-mccormack.com is a participant in the Amazon Services LLC Associates Program, an affiliate advertising program designed to provide a means for sites to earn advertising fees by advertising and linking to Amazon.com
Below are 3 recommended knee hyperextension braces, for various levels of support needed.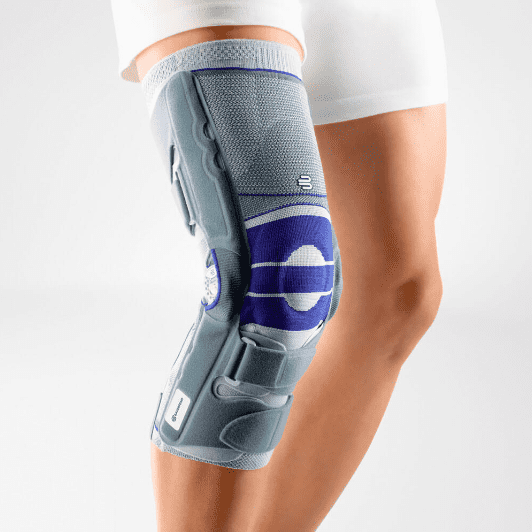 The SofTec Genu is the most comprehensive and strongly supportive knee hyperextension brace. It has two joint splints either side of the knee, with a hinge that can be adjusted to the angle that you need. The elasticated sleeve fits tightly to the skin to improve proprioception at the knee, which will help you feel more aware and secure with your movements.
Bauerfeind are a leading manufacturer of braces and supports with very high quality products.
This is an excellent knee brace to prevent hyperextension, for those who need a lot of support. And for those recovering from a severe knee hyperextension injury.
This is a more mid-range knee brace for hyperextension. This brace offers hinged sidebars for support and to prevent knee hyperextension. It is made of flexible material and fitted with straps above and below the knee joint to ensure a secure fit. The tight fit will help with knee proprioception and therefore help to prevent hyperextension.
Additionally, it has been designed to be breathable and moisture-wicking at the back of the knee for heat and moisture regulation, to avoid skin irritation, and improve comfort.
This is a very good knee brace for hyperextension, for those who need moderate support. Or those recovering from a moderate knee hyperextension injury.
Buy Now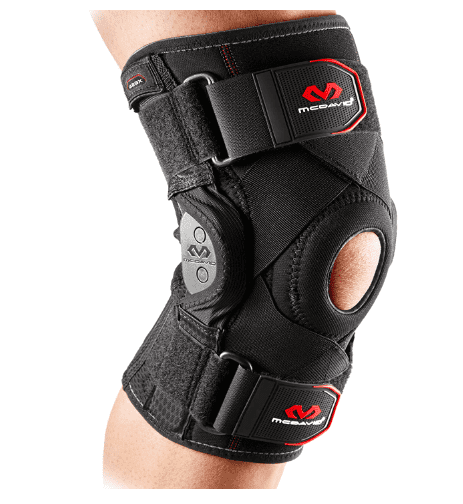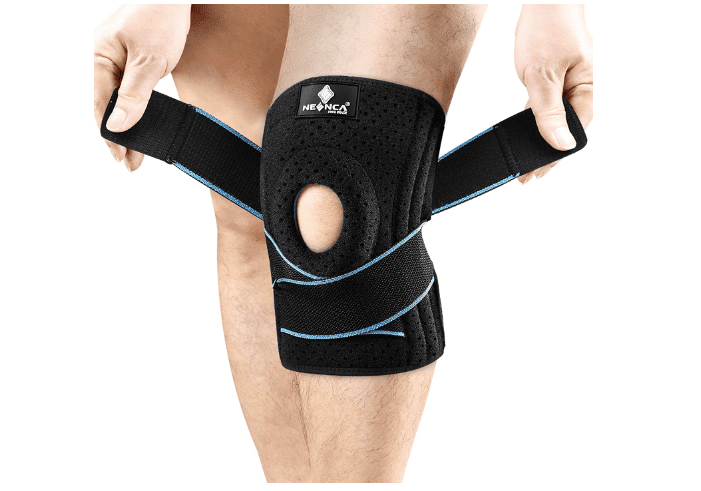 This is a budget option hyperextension knee brace. It is the most flexible of the knee hyperextension braces recommended.
It has light spring stabilizers on either side of the brace and elasticated straps that cross at the front and back of the knee to provide support. The tight-fitting sleeve and elasticated straps will improve proprioception at the knee.
This is a good knee brace to prevent hyperextension for those who need less support. Or those recovering from a mild knee hyperextension injury. 
Buy Now
What is the best knee brace for hyperextension after stroke?

Following a stroke muscle strength and control can be impaired. The extent and duration of the impairment depend on the individual case. If the quadriceps and hamstring muscles are affected if may be difficult to control knee extension and hyperextension. The brace should be selected according to the support needed. A brace can help to improve control but is not appropriate if there is no, or very little, muscular control.